After the morning meeting of Fr. Ángel Fernández Artime and Mother Chiara Cazzuola with a small number of young people, in the afternoon at Estoril, during the SYM Festival, it was a shower of people who welcomed them in celebration.  
When the two leaders arrived at the Salesian school in Estoril, where the party was concentrated on the afternoon of the 2nd, they felt the euphoria of the more than 8,000 young Salesians from 78 countries present at World Youth Day Lisbon 2023.
The Salesian youth filled the Salesians of Estoril with the atmosphere of the Oratory, with games, music and noisy joy. At various times, several Salesian hymns were sung, each in their own language, demonstrating the universality of the Salesian message and charism in the world.
At the end of the afternoon, at the opening celebration, the Salesians of Estoril presented a dance and music show about the dream of nine years. Staged in an original and simple way.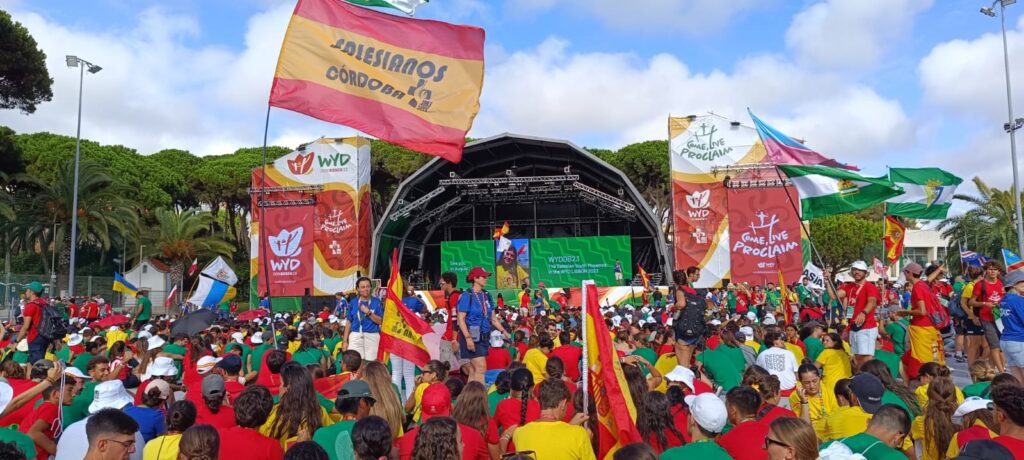 SYM Day was as much about celebration as it was about recollection. There were moments when the silence was absolute.
After the dinner, orderly and expeditiously served by the dozens of volunteers, the young people quickly resumed their place in the courtyard to follow the Prayer Vigil, which started from the dream of the two columns of St. John Bosco.
The young people prayed for peace in the world, for the unity of the Church, for the evangelization of other young people, for the building of a better world, for the salvation of all.
At the end, the "good night" of Fr Ángel and Mother Chiara.