The young people of the Salesian Youth Movement, who will travel to Portugal for WYD, accompanied by Father Anatoliy Hetsyanyn, SDB, received the blessing of the Auxiliary Bishop of Lisbon and coordinator of World Youth Day in Lisbon, Cardinal D. Américo Aguiar, at the Mariano Center of Zarvanytsia (Ukraine).
In his speech, Archbishop Américo urged the Ukrainian youth not to be afraid to dream. "My dear young Ukrainian friends," he said, "Do not be afraid to dream! I wish you the strength to fight! Be creative! World Youth Day is a meeting that allows you to overcome all obstacles. I came from Portugal with Our Lady of Fatima in my heart. How nice to meet the Mother of God here in Ukraine. Let's leave our joys, our sorrows, all our tears and smiles in the heart of the Mother. I have come here to pray with you, for you and for all those who are now defending heroically for their country. The young people of Lisbon are already waiting to receive those who come with open arms. And those who cannot come or who are already in heaven, I will take them to Lisbon in my heart. "He concluded his speech in Ukrainian: "Glory to Ukraine!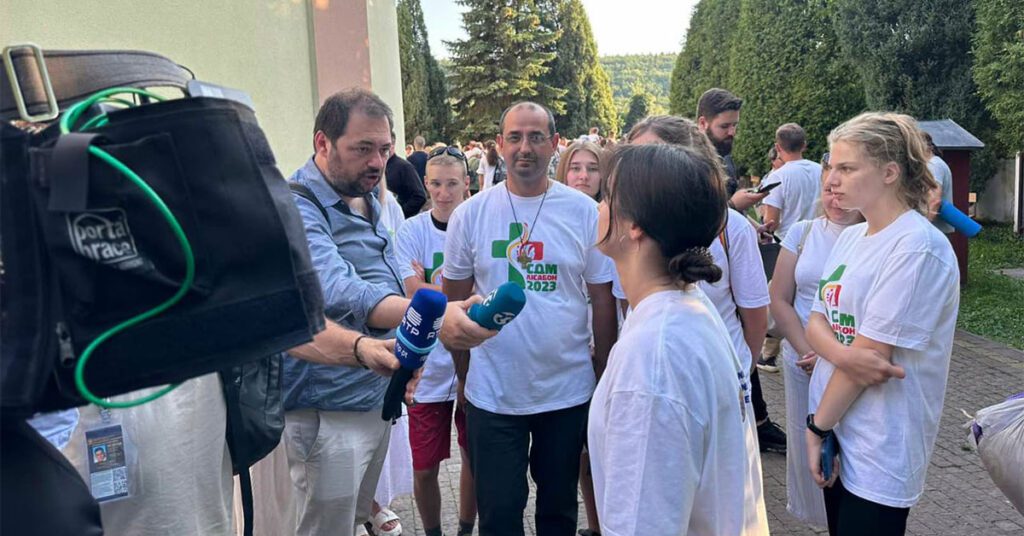 At the end of the meeting, our young people had the opportunity to take a picture with D. Américo, with the promise of meeting again in Lisbon. There was still time for a conversation with the journalists of Radio Renascença.
The Salesian group, composed of 56 young people, was accompanied by two Salesians.