On March 11 and 12, the first series of rehearsals for the World Youth Day (WYD) Orchestra Lisbon 2023 took place.
The rehearsal room of the Army Band, in Queluz, received the more than 90 musicians that make up the ensemble.
Rehearsals for the WYD Lisbon 2023 choir began in July 2022, however, the Orchestra met for the first time on March 11 and 12.
Composed of over 90 musicians, from different generations, the group includes, in addition to the fricated strings, woodwinds and percussion, some instruments that normally do not fit in an orchestral context, such as a large number of flutes and clarinets or a euphonium.
The rehearsal was directed by Rita Blanco, assistant to Joana Carneiro, who will be the conductor of the WYD Lisbon 2023 Orchestra.
After this first rehearsal, new meetings of the Orchestra are scheduled for April, May, June and July. Starting in May, the rehearsals will take place together with the WYD Lisbon 2023 Choir.
The WYD Choir Lisbon 2023 also joined in this same weekend, already having the fourth rehearsal.
Coming from different parts of the country, the young choir members are preparing a repertoire of almost 50 songs and other musical works, including the official hymn of WYD Lisbon 2023, "There is haste in the air. There are 200 voices coming together to "give music" to the world's largest gathering of young people with the Pope.
More rehearsals are planned for April, June and July 2023.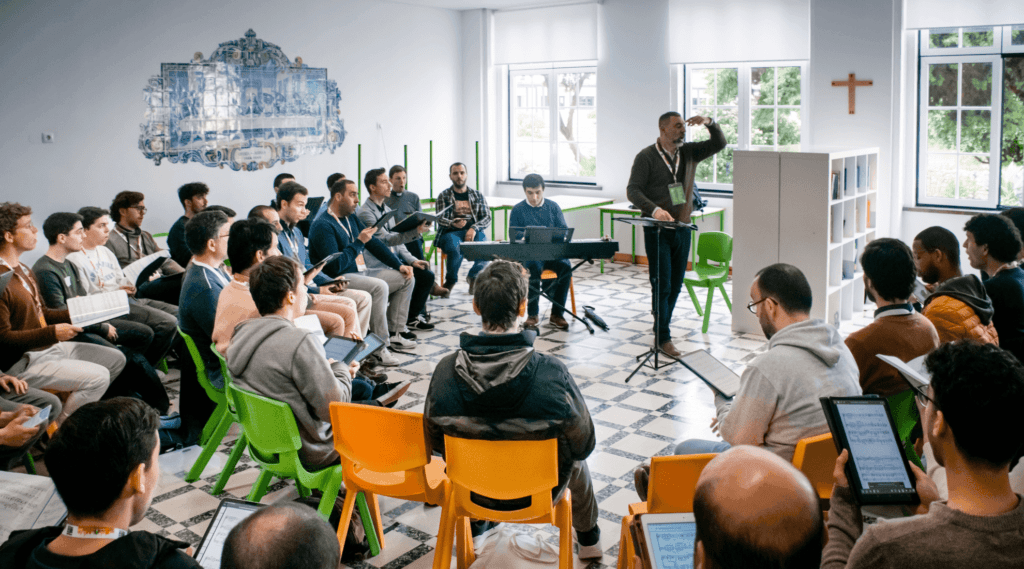 Photo: WYD Lisbon 2023