The pilgrimage of the WYD symbols came to an end yesterday. A ceremony, presided over by the Cardinal Patriarch of Lisbon, Manuel Clemente, marked the end of the Pilgrim Cross and the Marian icon's passage through several countries.
The pilgrimage began in July 2020, in Angola, and then passed through Poland, Spain and Portugal, where the 21 dioceses were visited.
Throughout the 21 Portuguese dioceses, the Pilgrim Cross and the Icon of Our Lady were transported in fire department vehicles, boats, floats, sailed on the Navy ship, flew on the Portuguese Air Force planes and were carried by thousands of young people.
"We and you, my dear young people, are with Christ the seedbed of God. Each one of you consider yourself a seed that God sows in this field that is the world," said Archbishop Manuel Clemente, during the closing ceremony of the pilgrimage, in the Cathedral of Lisbon.
In an interview with ECCLESIA, Bishop Américo Aguiar, president of the WYD Lisbon 2023 Foundation, made a positive assessment of the pilgrimage, praising the commitment of young people.
"The best thing about WYD is these young people we met, some of them had nothing to do with Church organizations or movements, they felt curious, they said yes to God's provocation and we cannot lose them," he adds.
From hospitals, schools, churches to prisons, the WYD symbols passed through many places, offering moments of prayer and adoration.
On the last day of the pilgrimage, the symbols walked through Lisbon, before the Mass at the Cathedral and the sunset at the Monastery of São Vicente de Fora.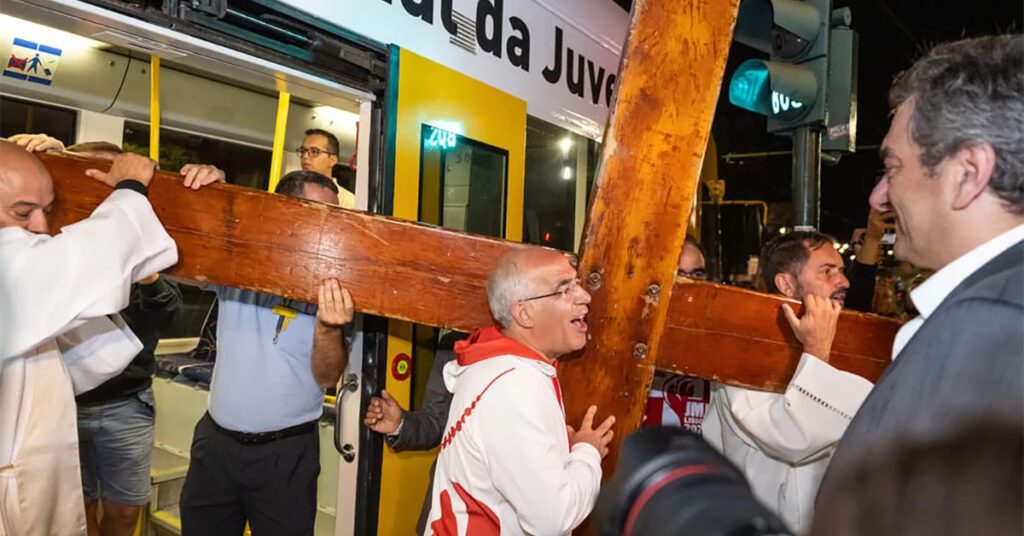 Photos: CM Lisboa