The Rector Major of the Salesians, Fr Ángel Fernández Artime, has already arrived in Lisbon. Waiting for him at the airport, a group of young volunteers gave him the t-shirt and the pilgrim's pack for World Youth Day Lisbon 2023.
The Rector Major is in Portugal to take part in World Youth Day, which will take place in Lisbon from 1 to 6 August and could bring together more than a million pilgrims to meet Pope Francis.
At Portela airport, a group of young volunteers from WYD DON BOSCO 23, accompanied by the Provincial of the Salesians of Portugal and Cape Verde, Fr José Aníbal Mendonça, and Salesians Fr João Chaves, Fr Tarcízio Morais and Fr Luís Almeida, welcomed the X Successor of Don Bosco.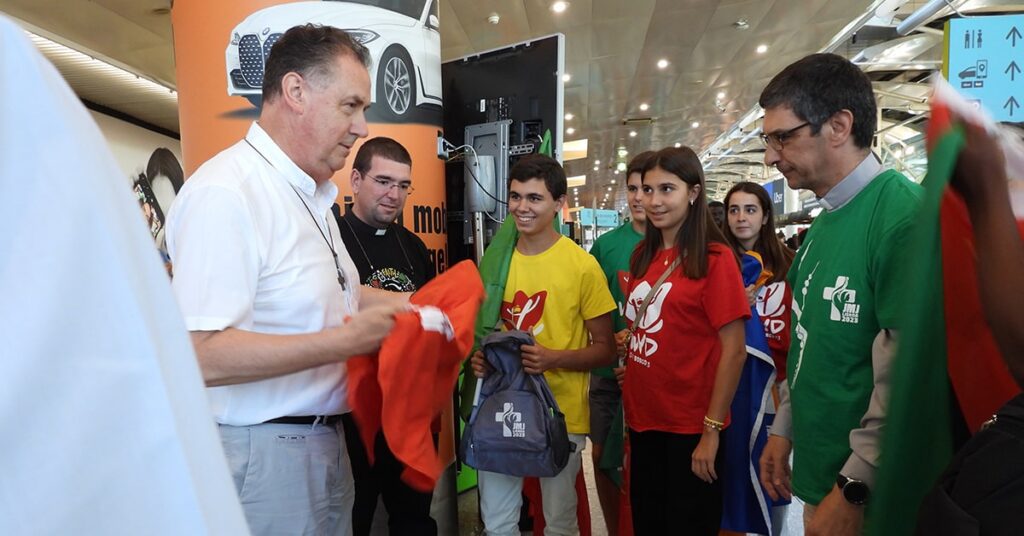 On his arrival at the Salesians of Lisbon, and Provincial Headquarters, some volunteers interrupted their tasks to welcome him in the school yard. Fr Ángel greeted them one by one, thanking them for their welcome and the work they are doing.
The Rector Major will be in Lisbon until 8 August, accompanying WYD Lisbon 2023.
On 2 August, Fr Ángel will preside with the Mother Superior of the Daughters of Mary Help of Christians, Sister Chiara Cazzuola, at the celebration of the Salesian Youth Movement, SYM Day.
During the morning in Lisbon, the two leaders will meet with about 300 young people representing the various Salesian Provinces at the SYM Forum. In the afternoon, the SYM Festival will bring together the more than 8,000 young people of the SYM who are in Lisbon for World Youth Day.
At the end of his visit to Portugal, the Rector Major will preside over the inauguration of the new Provincial of Portugal and Cape Verde, Fr Tarcízio Morais.