The core of the WYD DON BOSCO 23 Logistics team is formed by three members, but the team counts on the collaboration of more than 70 people. 
The team is coordinated by Salesian Orlando Camacho. 
Although the preparation meetings began more than a year ago, the Logistics team started working more intensively six months ago. "When we had more concrete data on the number of pilgrims, overnight stays and dietary restrictions, we were able to implement the plans that had been devised," says Salesian Orlando Camacho, administrator of the Salesians in Lisbon and coordinator of the team that also includes José Bernardo and Margarida Martins. To receive the pilgrims, "it was necessary to adapt almost all the spaces, because, for example, the schools can provide showers, but they are not prepared for overnight stays," he explains. Ensuring these logistical adaptations was the main mission of Margarida Martins, head of maintenance. "We set up the showers, reinforced the electrical system, set up the sockets, and collected the donated goods," she tells us. "All this work was done in collaboration with José Bernardo", she adds.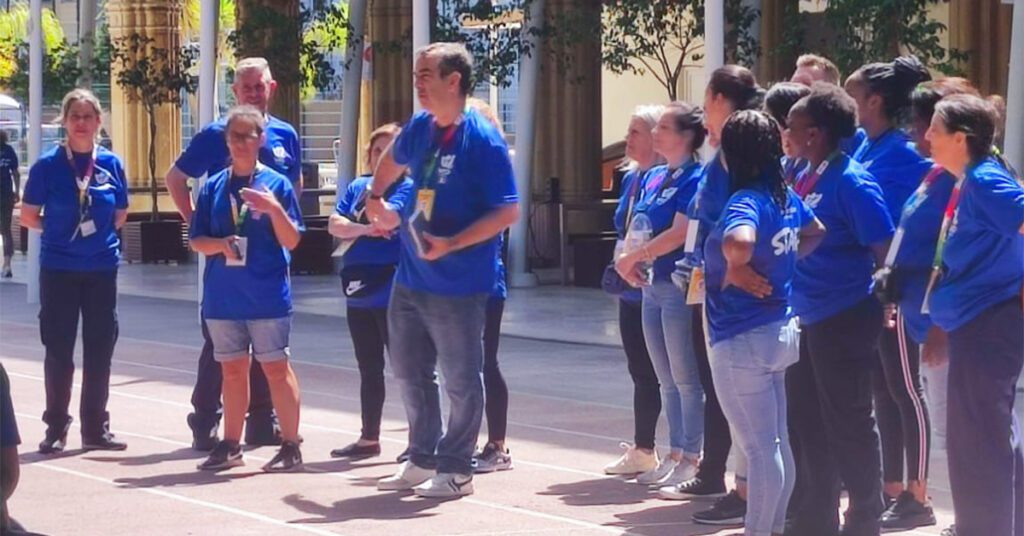 It was not yet 11am and the staff coordinator already had more than 50 calls made. "These days have always been like this, but it has been spectacular. For me, and for my team!" confesses José Bernardo. "We saw this morning's breakfast [on 1 August] as a test and it went very well. Tomorrow we will serve twice as many meals and I think we will be ready." In all, he has coordinated the 70 people allocated to the staff, which also includes seconded employees from the Salesians of Manique. The interview was interrupted by another phone call. One of the volunteers assigned to the schools was asking for ropes for a group of pilgrims to lay out clothes. "I have to go," he tells us without ever breaking his smile.
In an event of this size, the secret to making everything run smoothly is in the small details, even those that are not visible, but fundamental, such as the reinforcement of the wi-fi signal.
"To scare pigeons away from the courtyards, we have an eagle that flies over the area throughout the day," the Logistics Team coordinator tells us. With this solution, it was possible to triple the leisure and dining areas by setting up tables and chairs on the football pitches and patios.